Ahoyhoy,
I foolish worte in my diary that to get to Macapa, Brazil and catch a ferry to Belem before the Easter weekend was a race against God. Well if so God is going to win and he does not fight fair!
On Monday morning I was at 1st in line at the Suriname consulate and despite needing to change some notes for $4US to make up the required $25US for a tourist card I was in and out in under 30 mins total. So much for 3 weeks I am pleased to report. The insurance took longer but was soon obtained and I was retracing Saturday morning's route back to Molson Creek and the ferry to Suriname.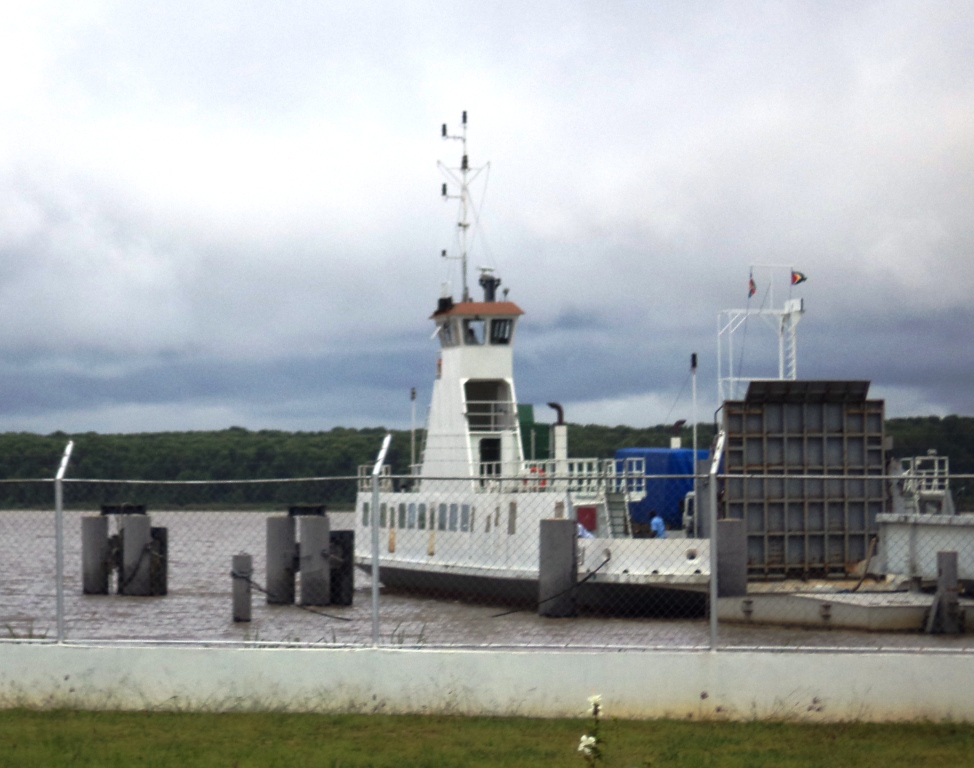 Immigration and customs couldn't have been easier and once on the road to Paramiribo I was struck how much it reminded me of The Netherlands. I don't mean it being an ex-Dutch colony but I looked like it. Swap the palm trees for green houses and I challenge yoou to walk along the drainage ditches over the table flat land past the Dutch road signs and tell the difference. My do they love sleeping policemen here – road humps not lazy plod. But then the inevitable happened, the new innertube gave up; clearly not man enough for its heavy work: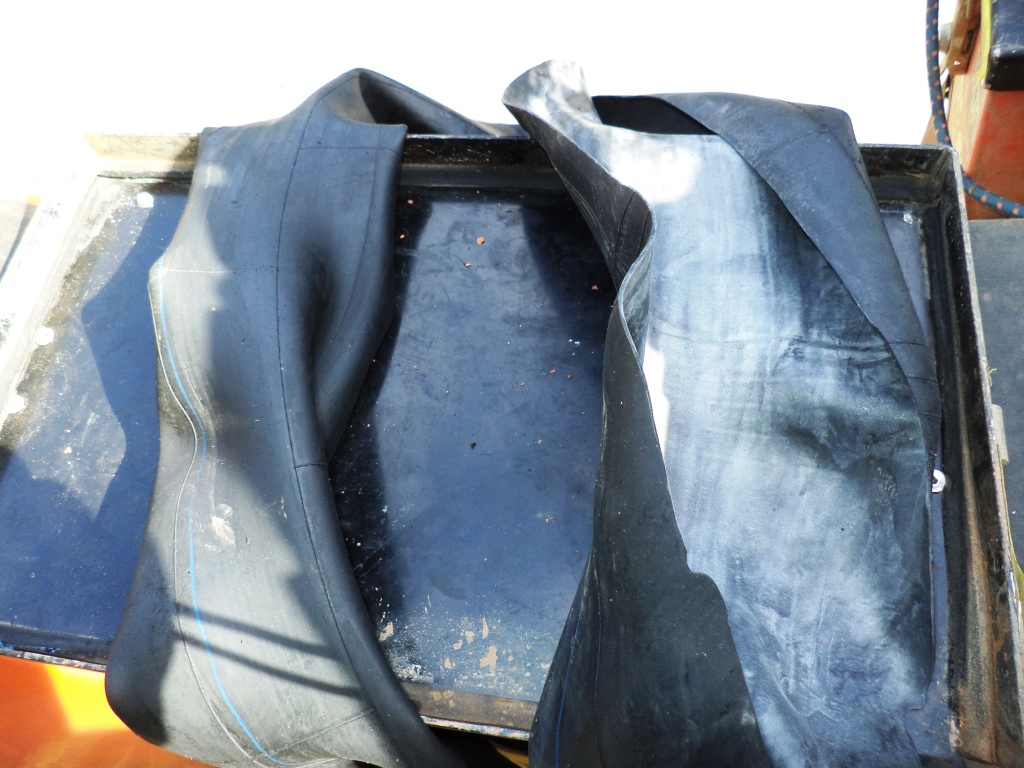 Lots of people stoped to see if I needed help but apart from getting the first to help me put Sir Humphrey on the centre stand I waved them on. Idiot but thats me. Changing the rear innertube is something I could now do in my sleep but it is becoming more of a stuggle each time. The disintigrated one above had even ripped away the rubber spoke head cover. Just then a behemouth of a truck pulled up.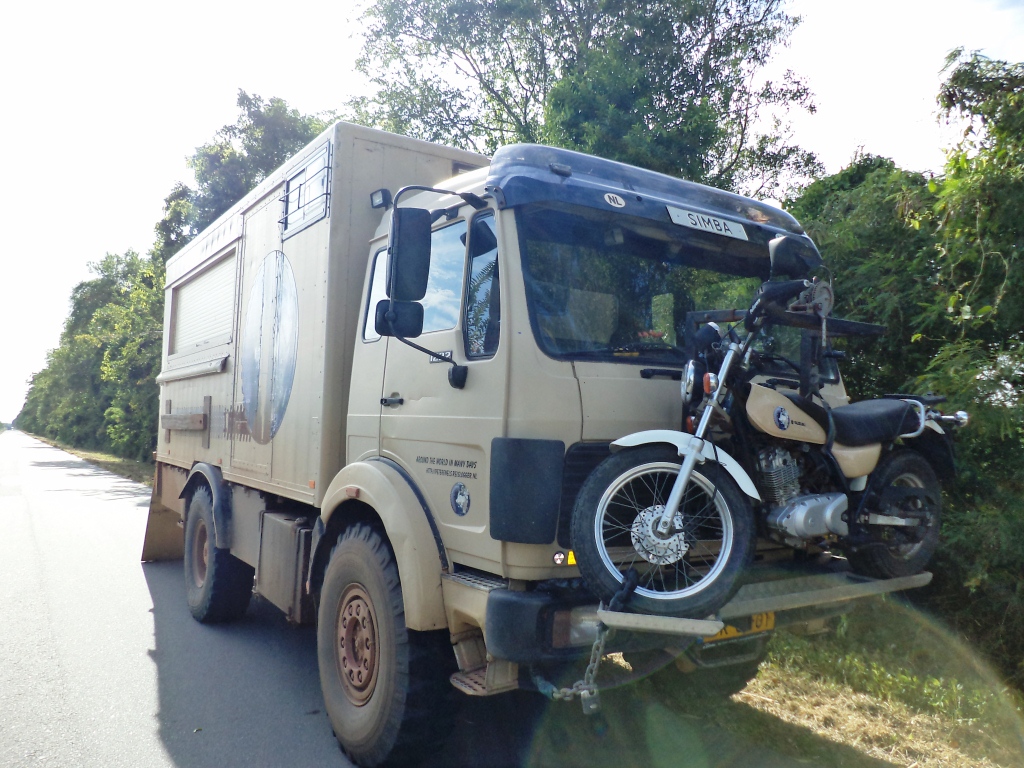 Out popped a middle aged Dutch couple who were roaming the world for 10 years. Peter and Enels. Great folks and delightfully accomodating. Peter helped me apply a duct tape replacement for the spoke head cover and get the wheel back on with the repatched innertube. I then cetainly couldn't refuse an offer to tea (with milk) in the back of their hardcore home.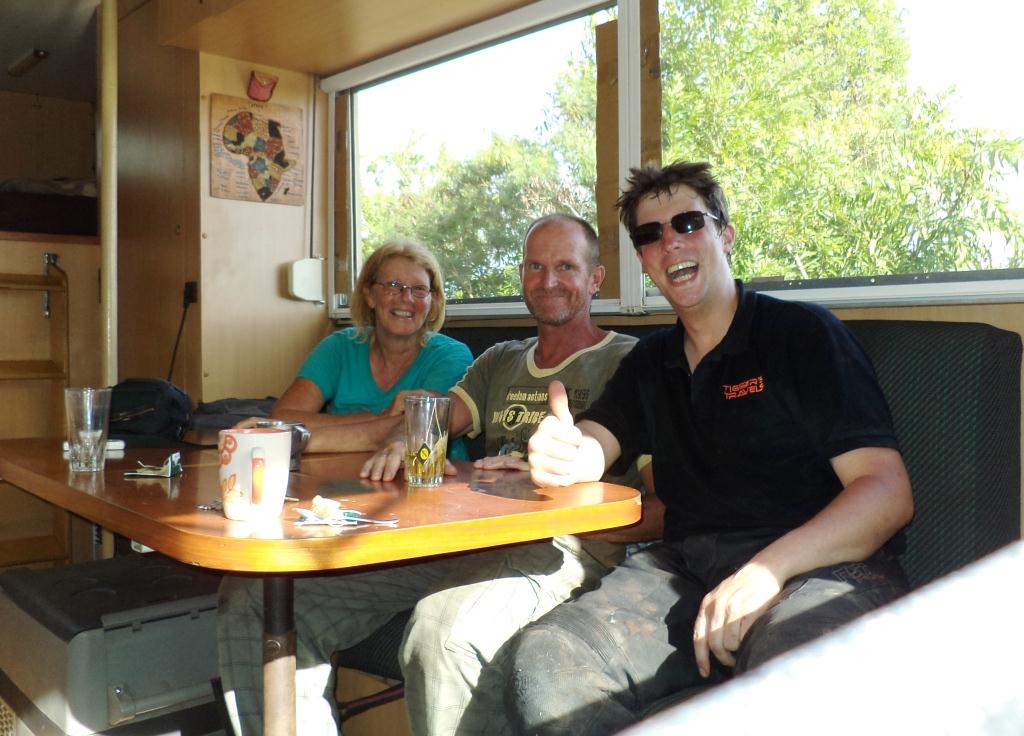 Alas this left me running even later and Paramiribo was still 120miles away. The road was straight and well surfaced so we Sit Humphrey and I sped along until rain slowed us.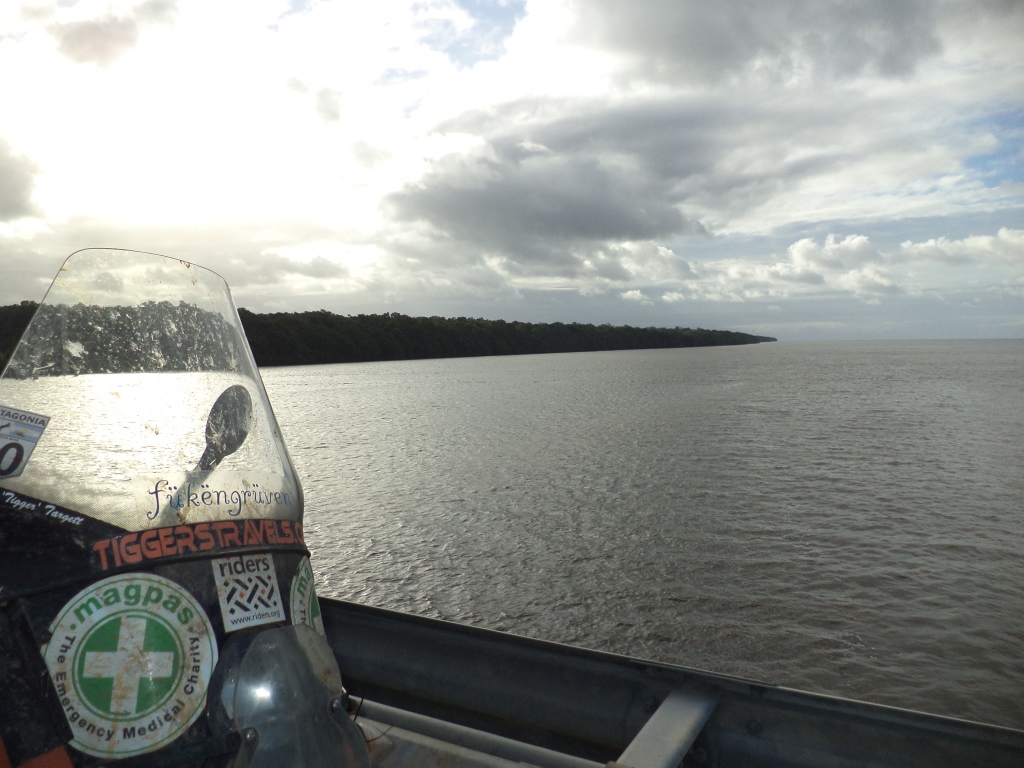 Alas this and the puncture had us arriving in Paramiribo (past the countless oriental supermarkets) in the dark and I was soon to discover this patched innertube had also failed the test to time. I was only a slow pucture at the moment so I pumped it up and carried on. Paramiribo is not a particually pretty place and it has many many casinos and virtually no hotels or hostels as best as I can tell. I kept having to pull over to repump the rear tyre in the dark and now heavy rain. One casino told me they very fully booked in that condescending tone you know means 'we are fully booked to the likes of you'. I did look rather dirty and bedraggled but up yours arseholes and a pox on your house of cards. I finally found some 'apartments' which wanted $75US a night and they didn't take plastic. This was too steep I thought at the time and decided to try for 5 more mins and if I had no luck I planned to return and pay the small ransom. I repumped the tyre but this time it was completely flat in 200 yards. I repumped it again hoping to be able to return to the 'apartments' but it was a one way street and I only made it round the courner where I discover a small sign indicating a Best Western above a casino. I pulled into a car space, pumped the tyre and went in. It was a $114US a night! I went back out, saw the flat tyre. I was going no where. I went back in, saw the Visa sign and decided to stay as I really had no choice. I paid and went to get my stuff when a Larry Grayson of a security guard told me I had to move Sir Humphrey and would have none of my protestations and rising anger. I realised I was close to losing it all together so I relelented to avoid this. BLOODY ANTIBIKE SNOBBERY! There was a car in the same space later. I did sleep well in my 6′ foot bed though.
Next morning I removed the innertube, patched it again and after breakfast went off in search of a replacement. I eventually found one and the some Shell V-power petrol as it seemed right to patronise the Anglo-Dutch establishment. I then headed off over the bridge for the ferry to French Guyane.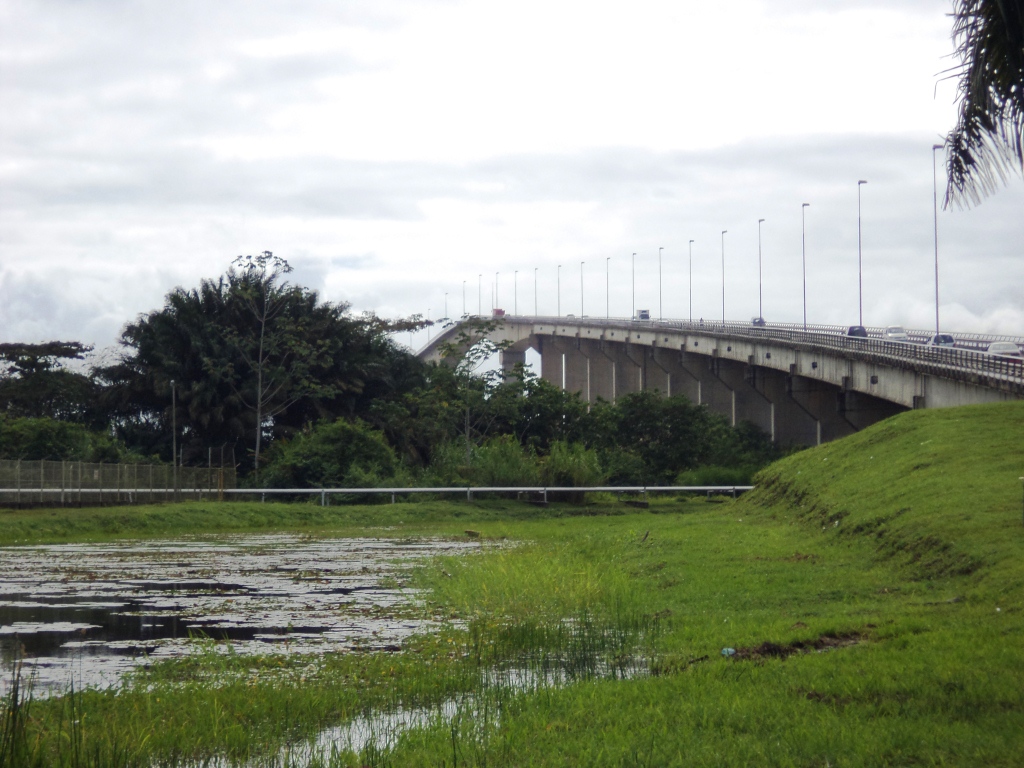 The road once out of town was potholed wet sand until guess what happened. Yep the puncture patch failed. The tyre wasn't all the way flat so Ipumped it up to the amusement of my crowd of spectators.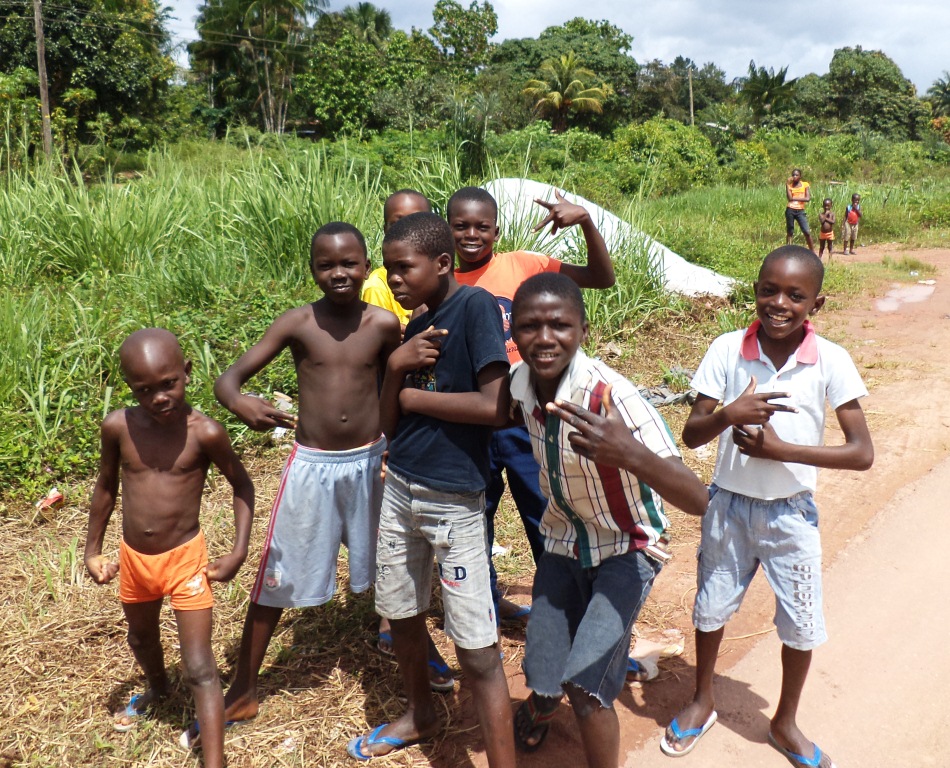 I made it 300yards down the road before breaking out the tools. It was just shy of 40deg C. The new innertube turned out to be for a front tyre and had a leak in it anyway. Two little helpers carried the wheel to a 'tyre place' up the road they told me about.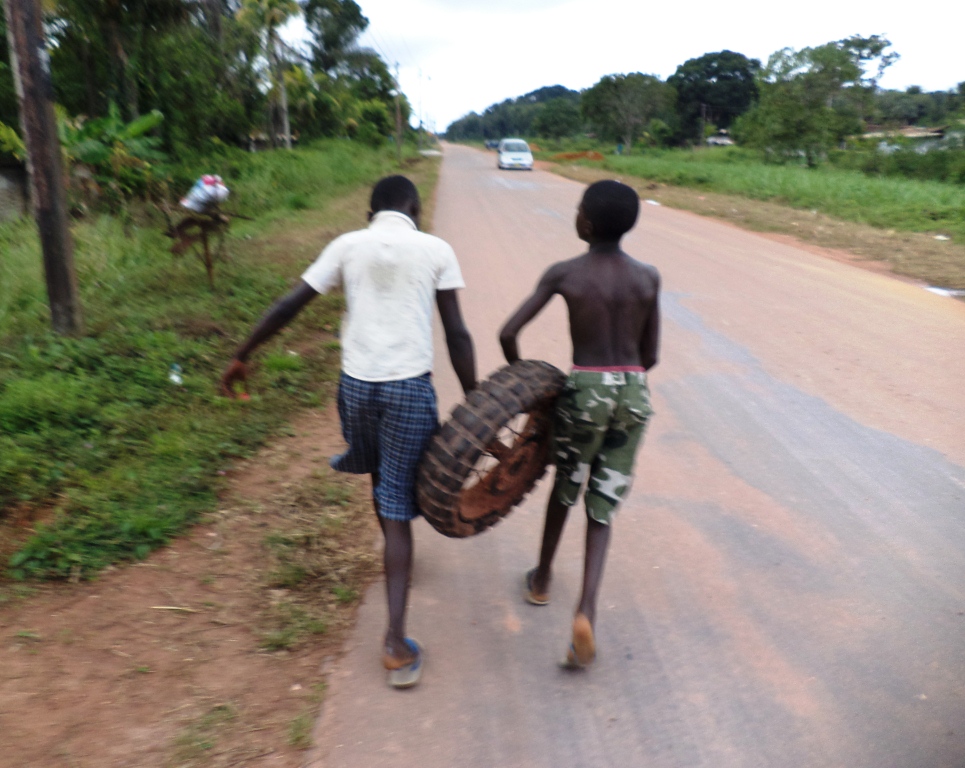 The boy there attacked my wheel with a javelin of a pry bar (perfectly fine for lorry wheels) and having hit the spokes twice I took my wheel back. I'd already repatched the original tube so I took this to him and got him to re-re-re-re-patch it. He looked like this time he was doing a diligent job and I was soon back at Sir Humphrey's side refitting the wheel with a lot of difficulty. Having done so I puked continually for 30 seconds I think from a combination pain, sun stroke, dehydration and I don't know what. I sat in the Sir Humphrey's shade, pouring 2 sachets of Dioralyte into my remaing water and rested for a bit. Once on my way I was quite content to attack the sandy pot holed road very slowly until finally tarmac reappeared intermittently. Near Albina, my destination, I pulled over to buy water but Sir Humphrey was dead on my return like he was before Georgetown. I took him to bits trying to find the problem (even removing headlights) and found that fiddling with a junction box near the battery would give him power but pressing the start button would take it all away instantly. Having just knocked a Satnav wire loose I reconnected this and suddenly all was fine. This had taken 3 hours! I rossed the last few miles to Albina where I missed the last ferry by 15mins. I then discovered I didn't have enough money for lodging and the ferry assuming I could getchange into Euros. I tried several houses to beg to be let to camp in their garden and was in the end directed my an M16 cleaning plod to the fire station. Here a wonderful firefighter/medic called Roy got permission for me to stay from his Commendant and I had a bed and air-conditioning for the night!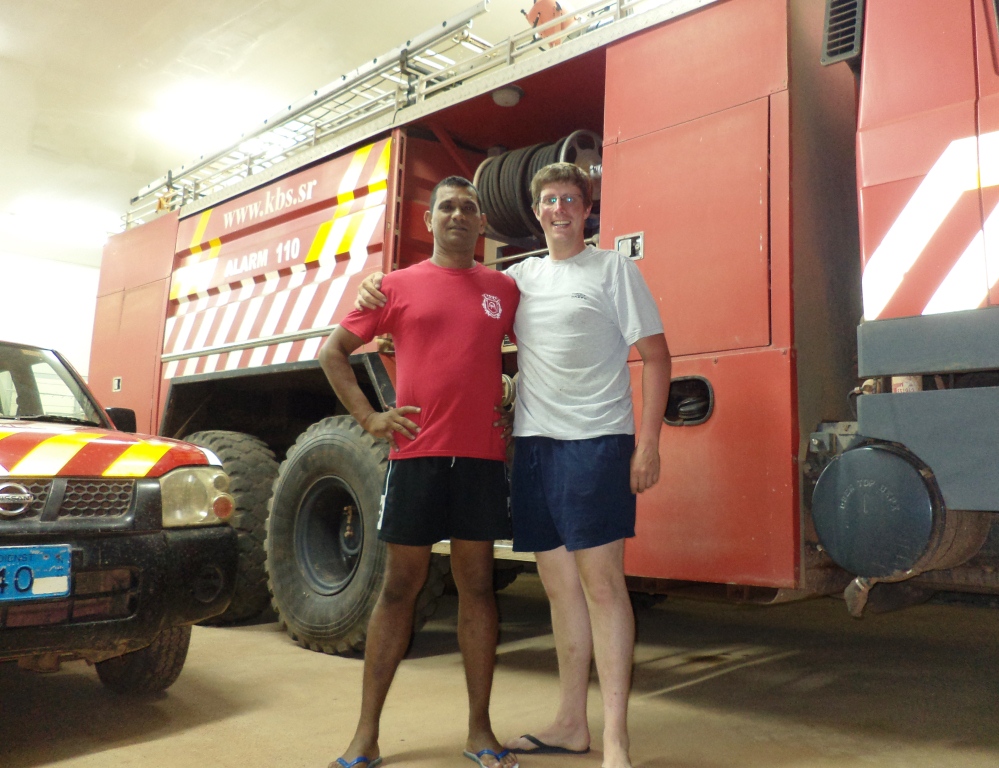 So all in all a terrible day with a great finish. Now I'm off to the ferry so see what awaits me there.
TTFN,
Tigger