Ahoyhoy there intercybermeganetatronamaticists.com,
I am alive but alas still in Georgetown, Guyana. No disrespect to Guyana but I rather hoped to be blogging to you from Suriname now. Anyway…..
At Iwokrama lodge I packed up my tent having slept through (thanks to Lionel Ritchie) a near invasiuon by Howler monkeys. All was well for breakfast though as the monthly delivery had come that morning and what more could I ask for?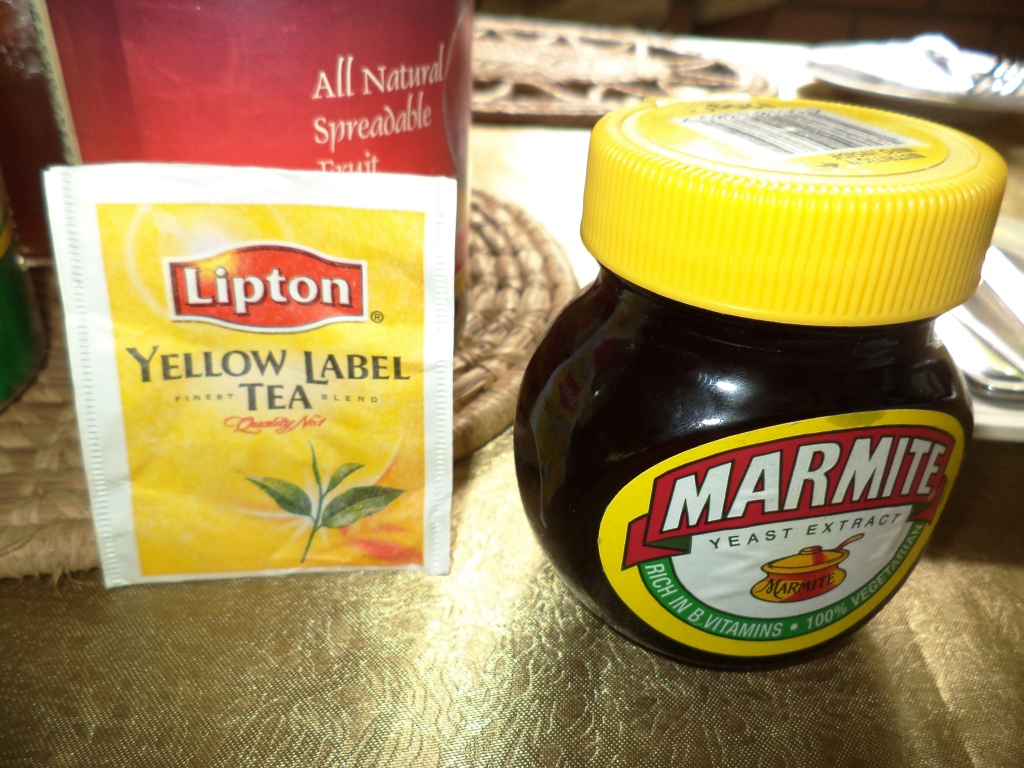 I looked averywhere on leaving for Little Tigger but with no joy. He is back in the Jungle from whence he did not come. There is now a space in my heart and on my handlebars. I know he was just a mass produced and internationally market soft toy and I know I am making too much of a fuss of this but it just seems a really big deal him being gone and all just a tad different without him. Perhaps all those big birds of prey I saw in the jungle were all on my left side?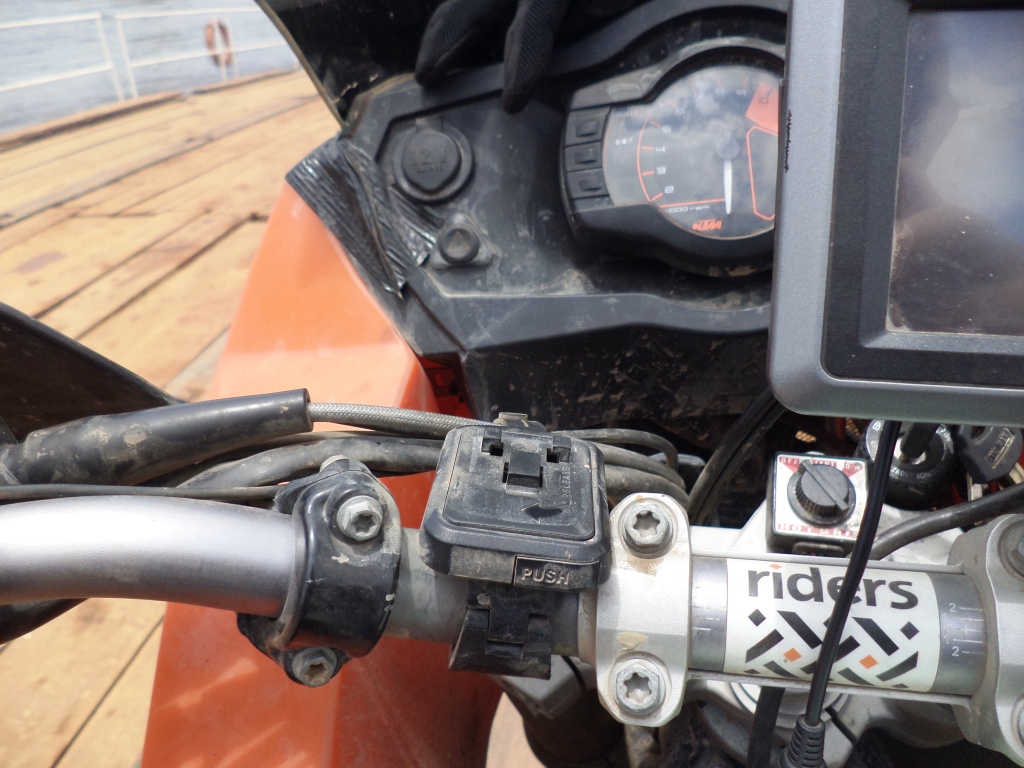 Anyway I didn't have much concentration left over to mourn with as the road had decided to become a little more interesting between Iwokrama and Linden much to my body's dislike: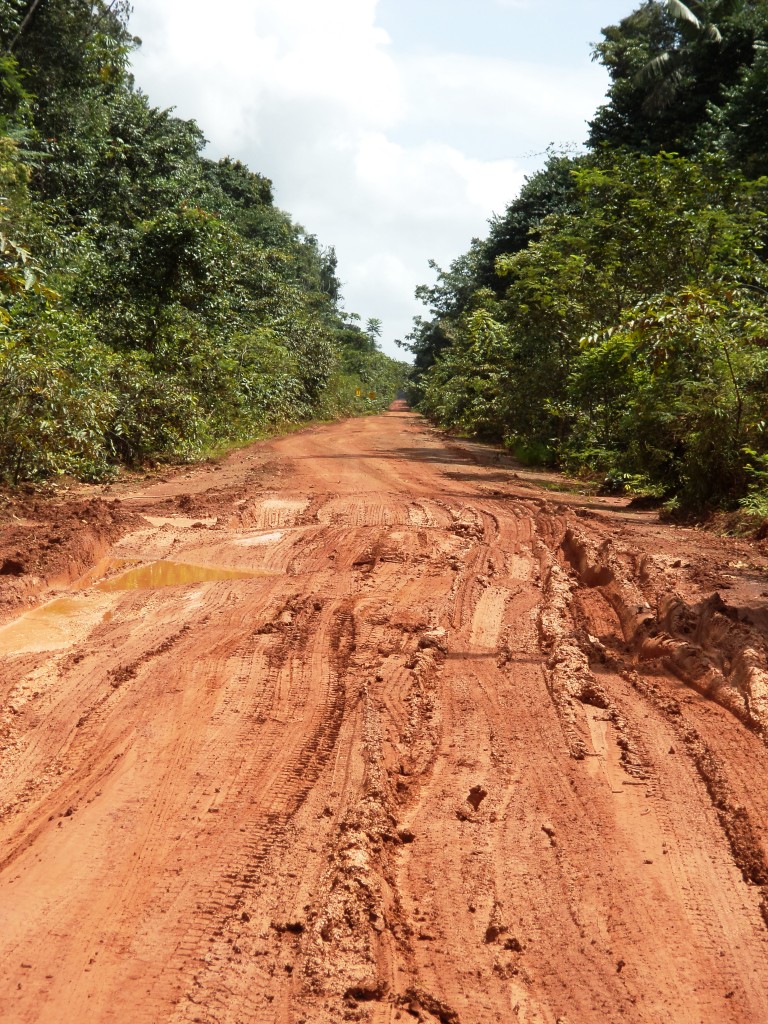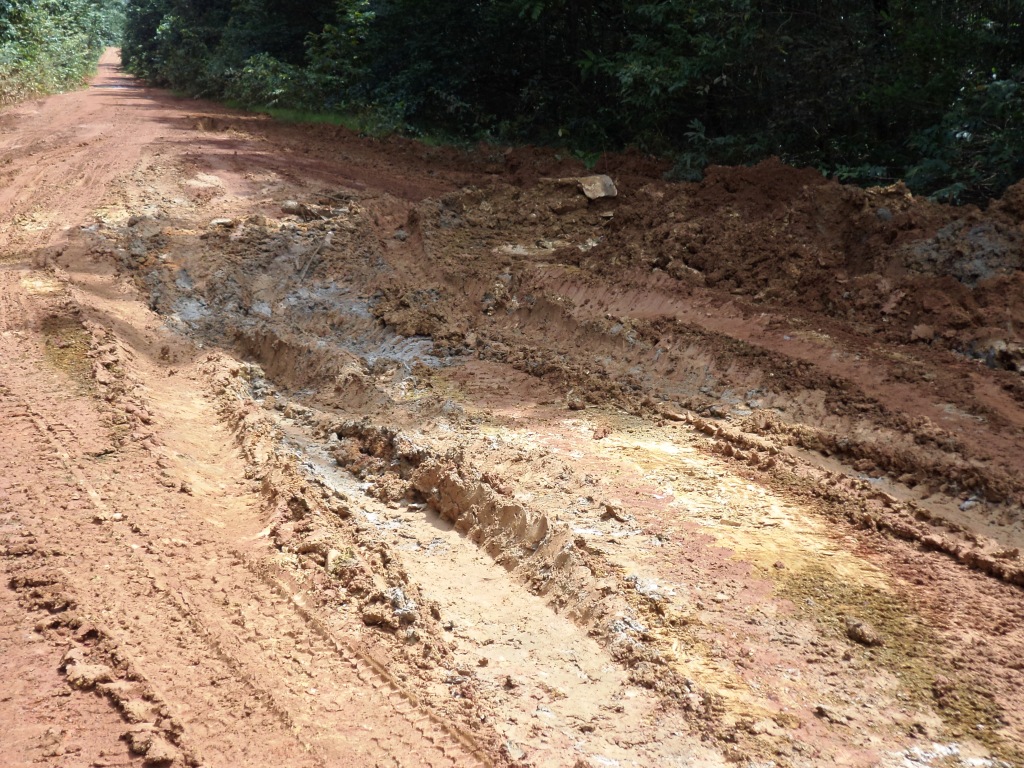 At one point we landed a pothole which had a big lip to its far side that hid another pothole and it gave Sir Humphrey a bit too much of a shake for the topbox. I then realised that now my sun block had also gone missing too. PIXIES!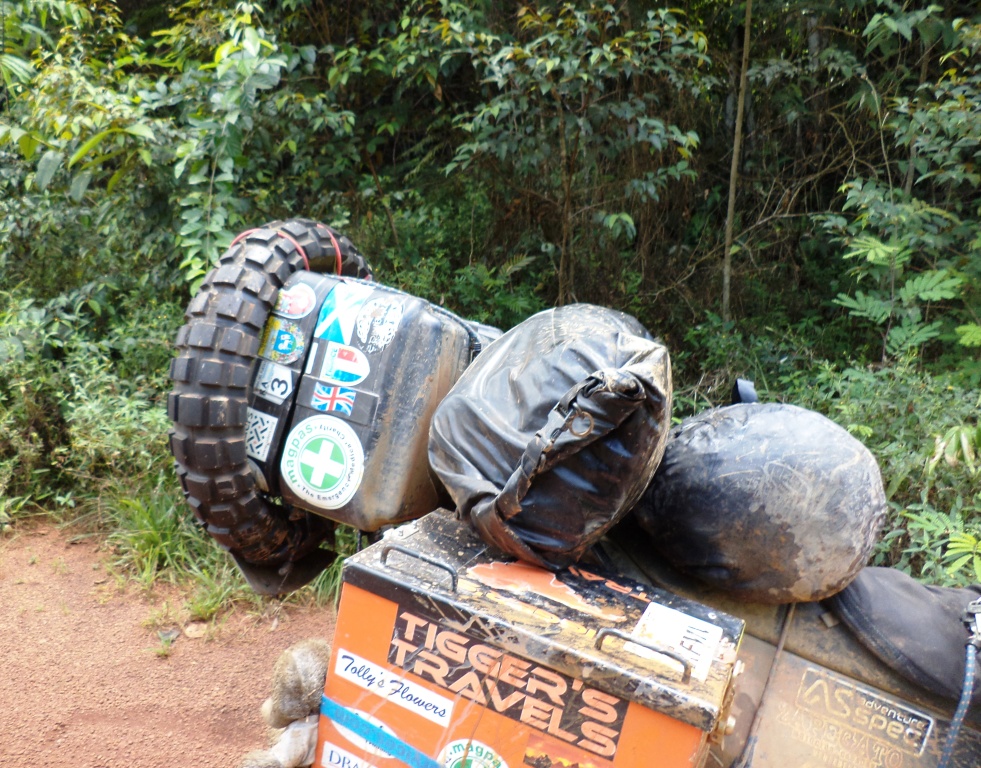 But it wasn't long until we made the ferry: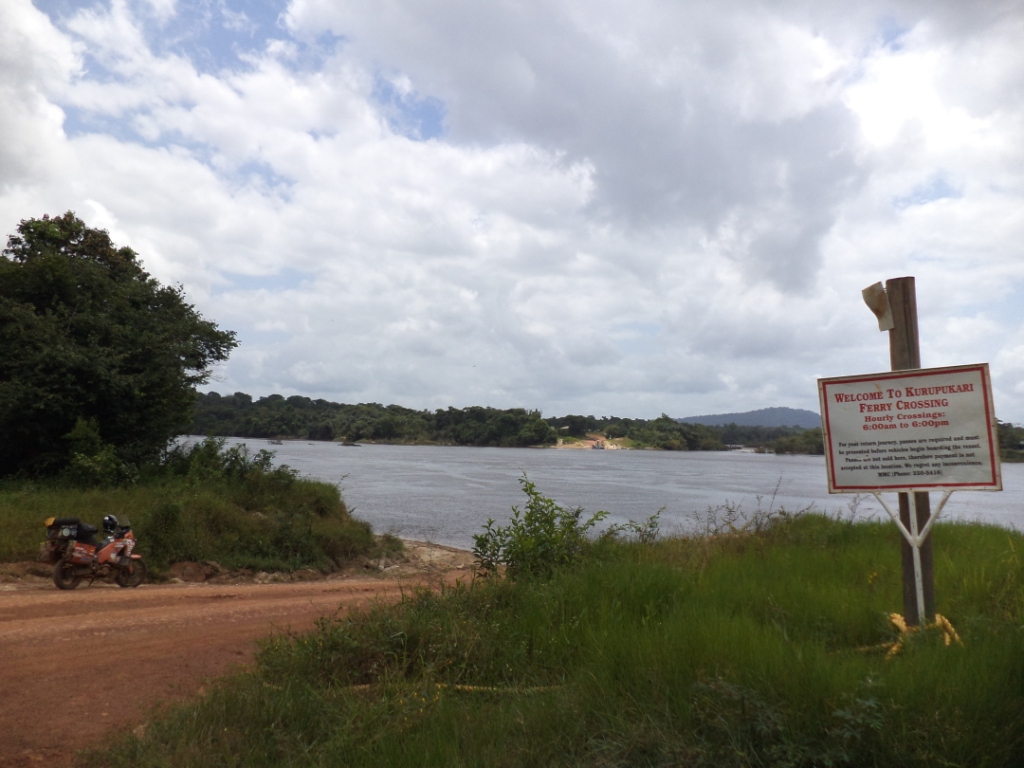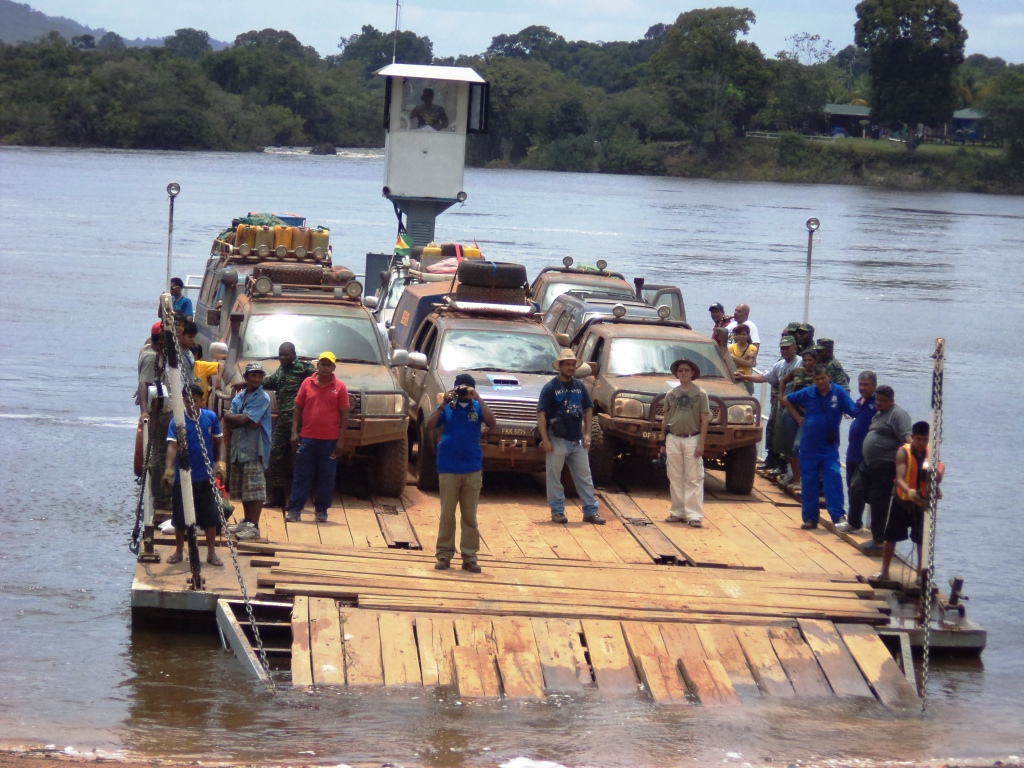 The muppet car drivers couldn't figure how to roll off without taking the planks with them; one after another. Soo funny for me and thankfully my words chortles didn't bite me on the bum as I didn't fall over riding on or off. Who'd a thought that?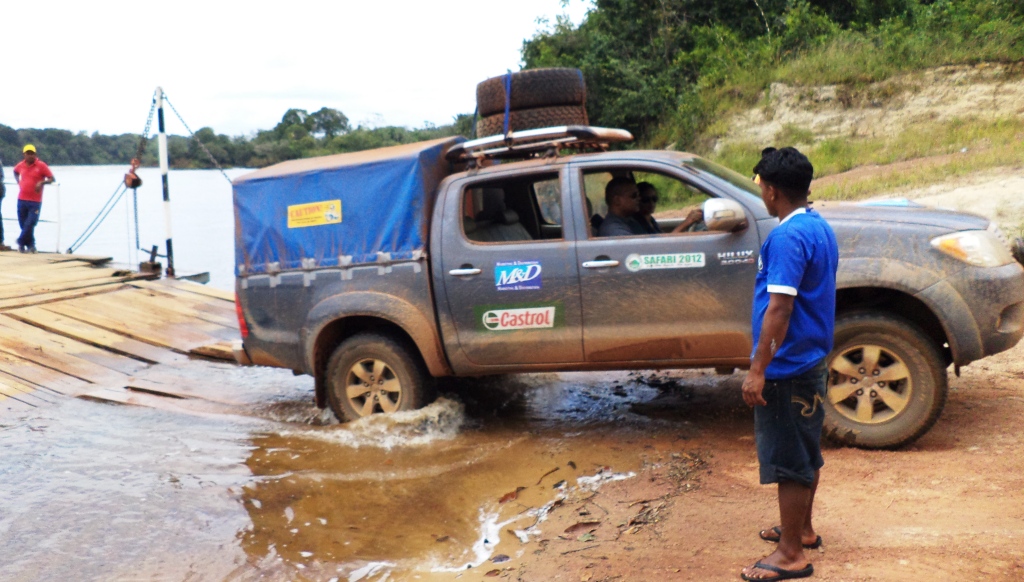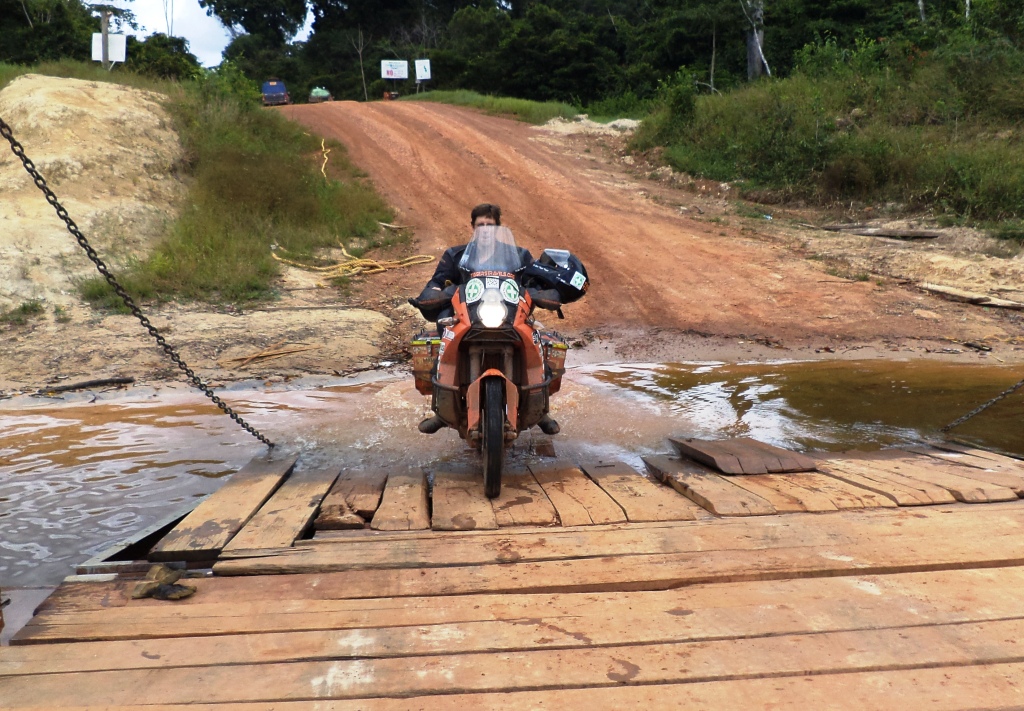 Tres pretty too with little rapids across some of the merging tributries: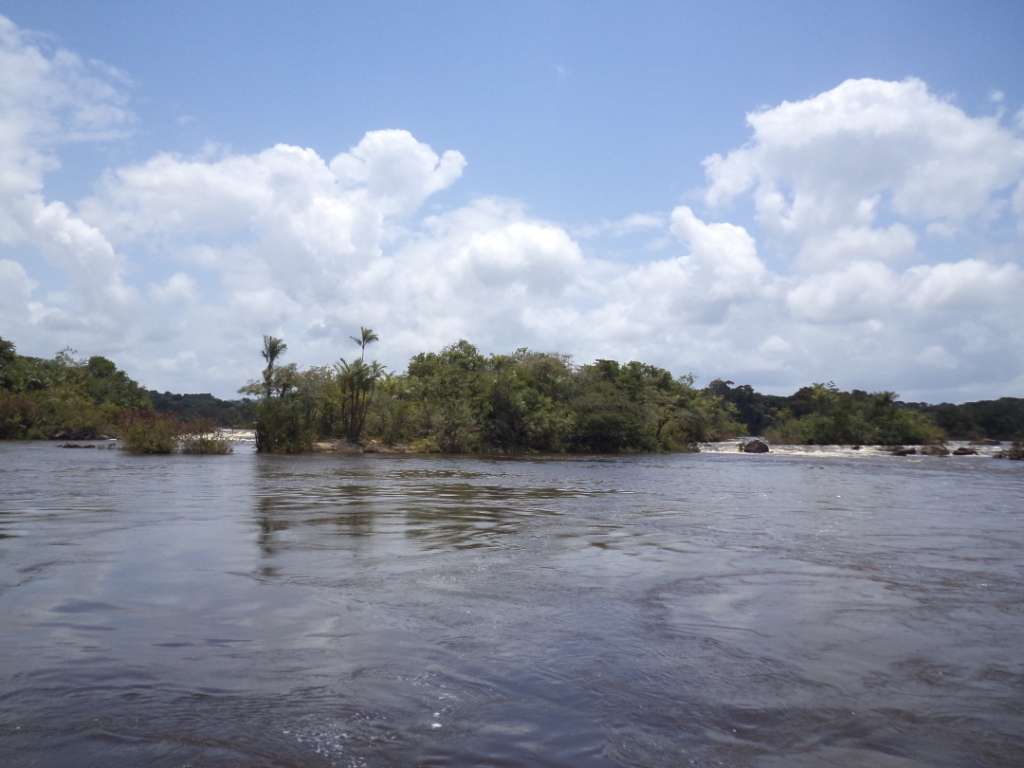 After here the road got better for a while and then worse but at Linden we were treated to tarmac all the way to Georgetown. At one point Sir Humphrey developed acute sudden electrical death but having takern him apart to find no fault he then subsequently working perfectly. I think he is in mourning for Little Tigger: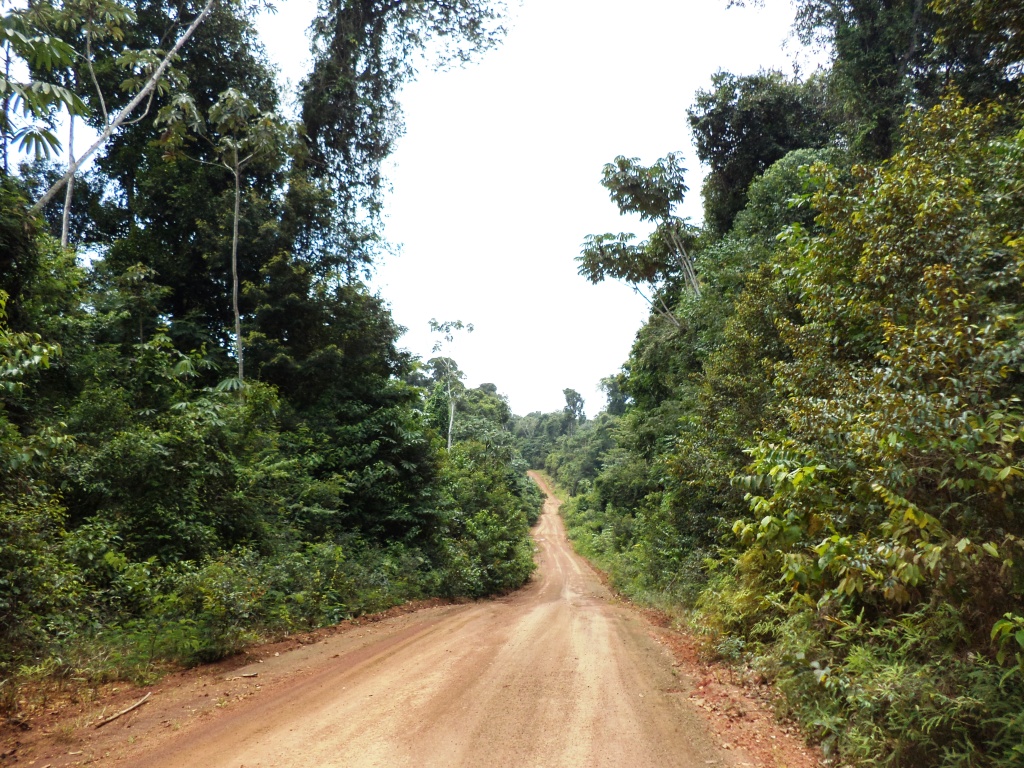 After all this hoohaa I made it to Georgetown and eventually, in the dark, found a little guesthouse 1/7th price of the first hotel I went to. I think this was something to do with it being a knocking shop renting rooms by the hour considering the free condom and numerous safe sex posters. Nevertheless I was tired and as you can see, very dirty thanks to the sand roads: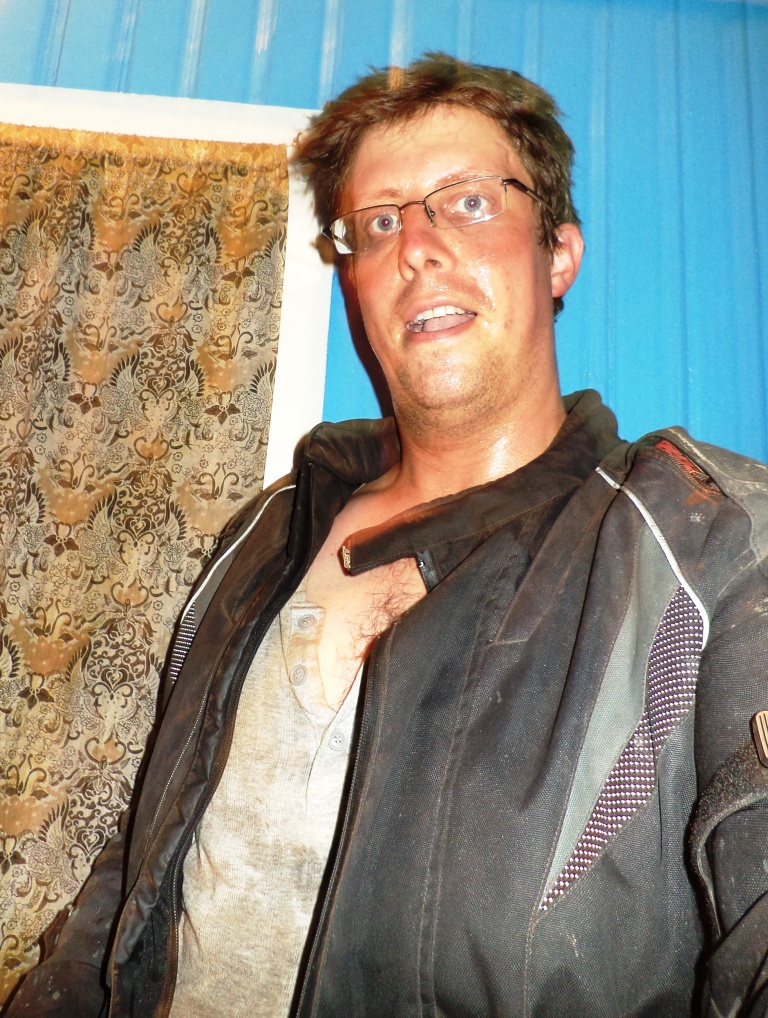 Alas the one thing far dirtier than me was the room and I was itching as soon as I got on the bed. I slept for a few hours in my silk sleeping bag liner but my right arm, must have been hanging out as it was covered in weals. I did not sleep well so by 7am I was on the road having diverted back through part of Georgetown to show you some fantastic and alas poorly cared for wooden buildings. I think the church is one of the highest wooden buildings in the world or something like that. Might be a different church. I was too busy scratching to get things down with certainty: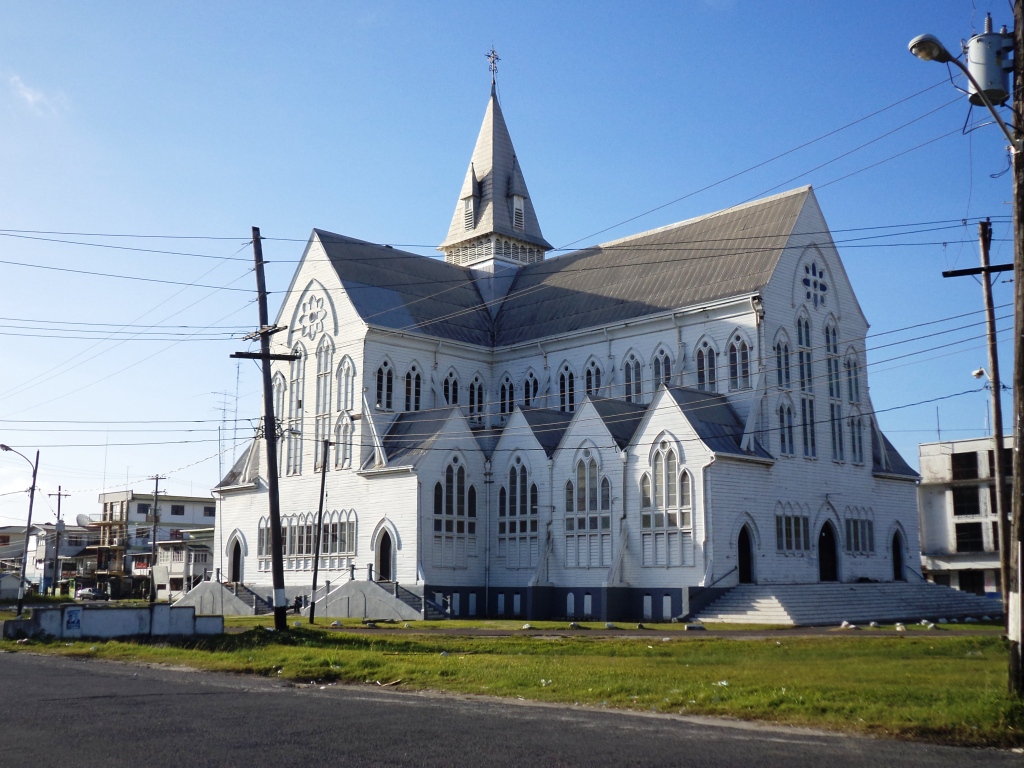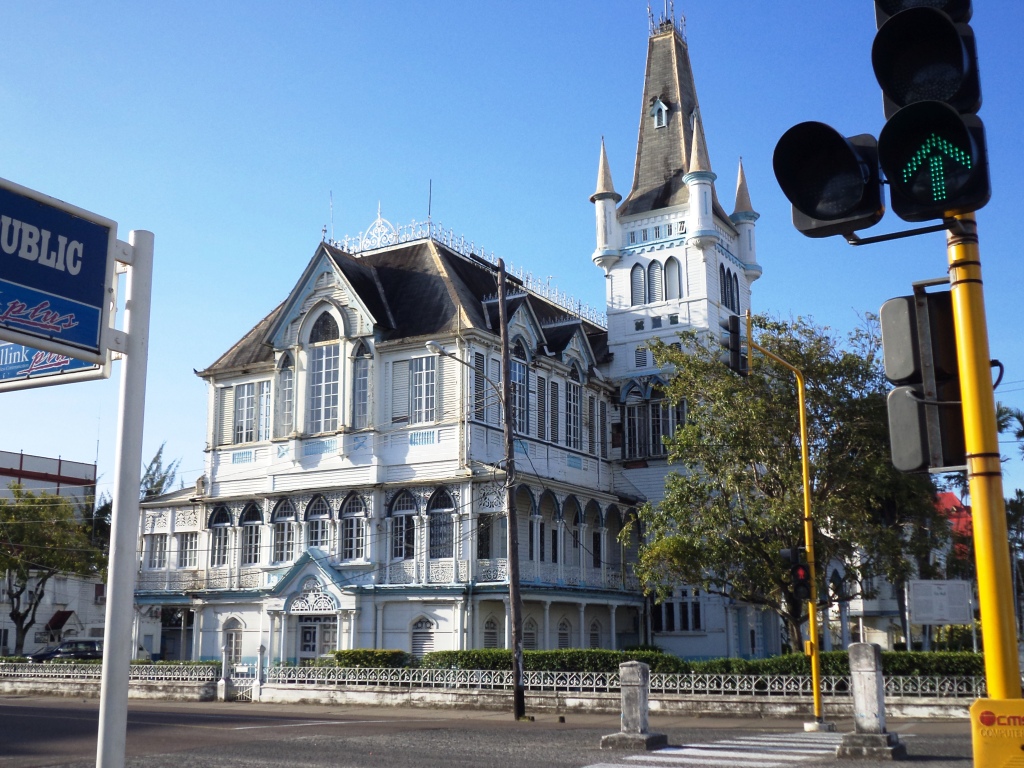 Guyana (formally British Guyana) is great and very caribbean in feel. I ride on the left, speak English, taxis have little stickers on them saying Hackney carriage and the people are friendly (despite their penchant for loud rap blaring through open car windows over the droan of a custom exhaust).
We were soon on the coast road passing the Mangroves that help keep the coastline around here: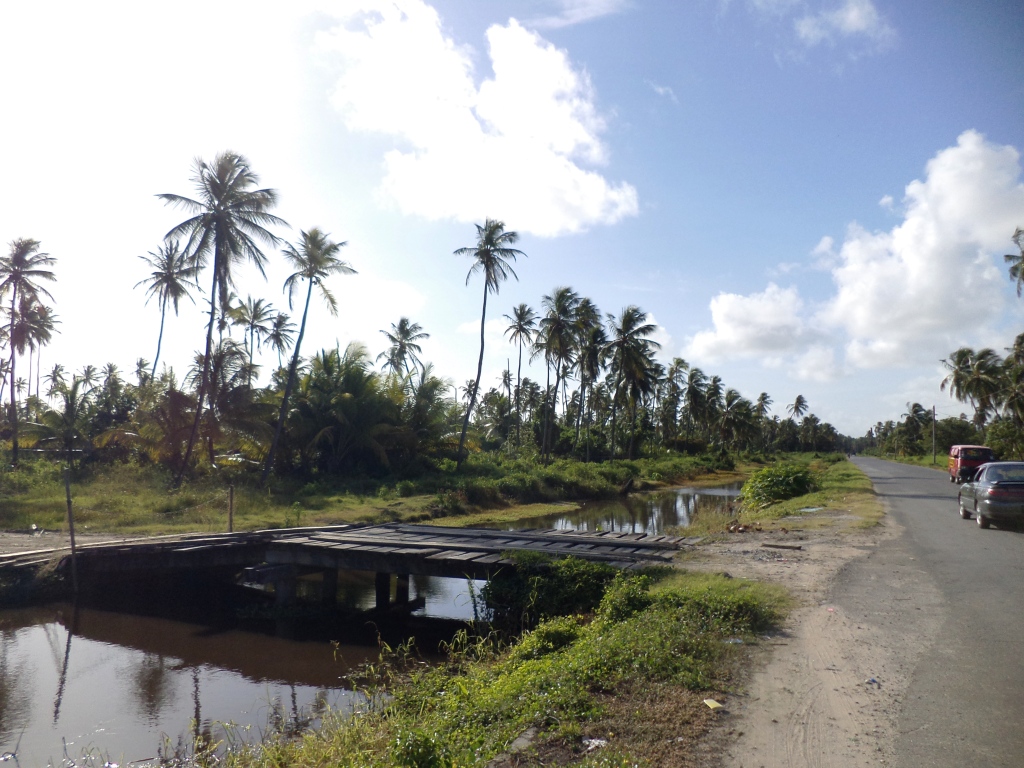 All was going well and we were making good time until everything went a bit slidy at the make. How about this for an innertube letting go?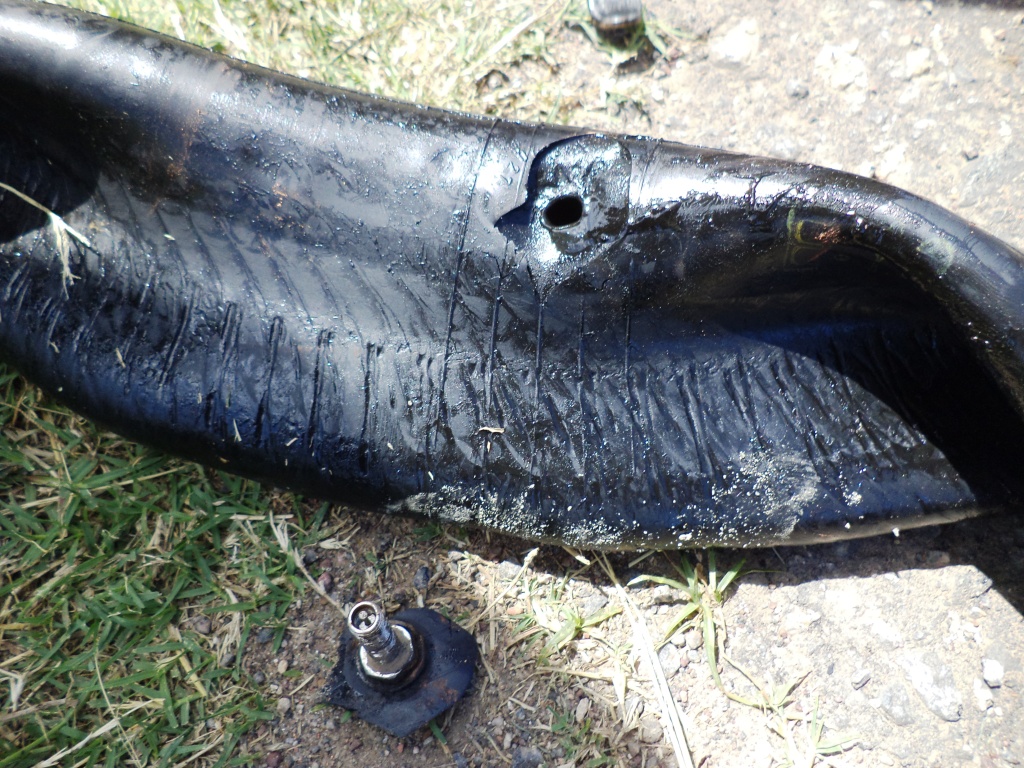 I soon had the spare tube insitu and having found noone home in the insurance office headed to the port. Here I made three rather sucky discoveries: 1) I had another rear puncture – a nail this time, 2) I did need a visa which I could only get from the Suriname consulate in Georgetown on Monday morning, 3) I was no allowed on the boat without Suriname insurance. Oh. OK. ARRRGH. Oh well. I patched the innertube which seemed to hold and started off to return to Georgetown and a better class of hotel. I stopped at the first bike shop and bought a new spare innertube. I was ion a fair amount of discomfort buy now having levered the rear tyre off its rim twice so I sped back and obviously ran into the police but as luck would have it they were both ladycops and I managed to charm my way though it dropping the odd words in like sorry, doctor, charity and thought it was a sign in miles per hour not kilometers.
You know how it works and it did.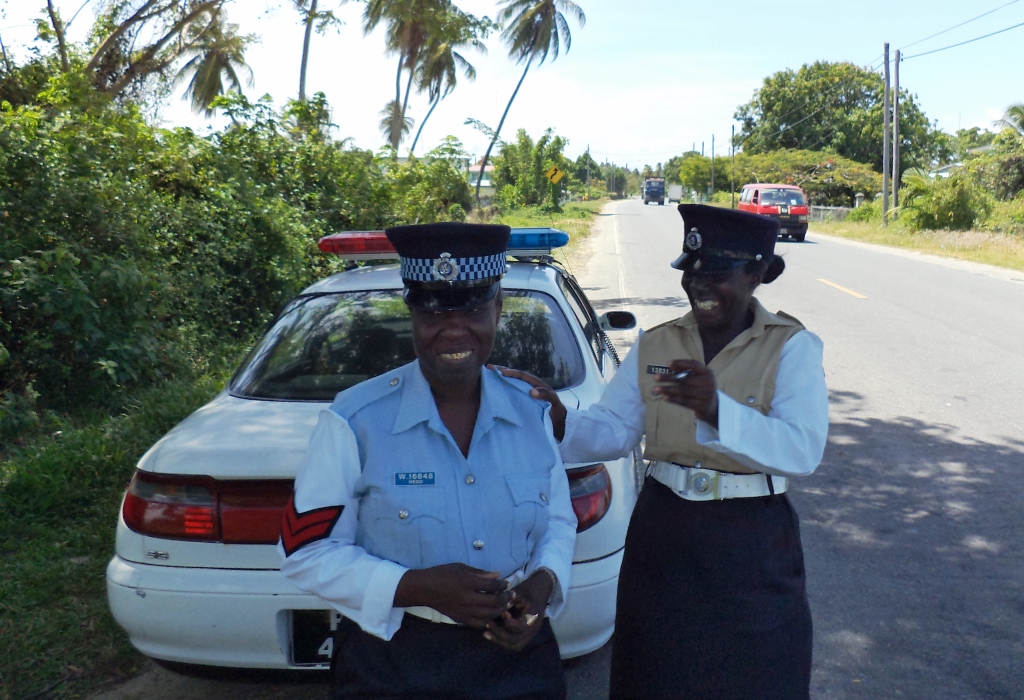 I obeyed the speed limit until out of sight and then blasted back to Georgetown. The posh hotel now wanted $176 US dollars a night so after spending far to long searching I found a nice and CLEAN place for $52 a night. I needed a clean sleeping spot tonight as well as a good scrub myself (and a haircut):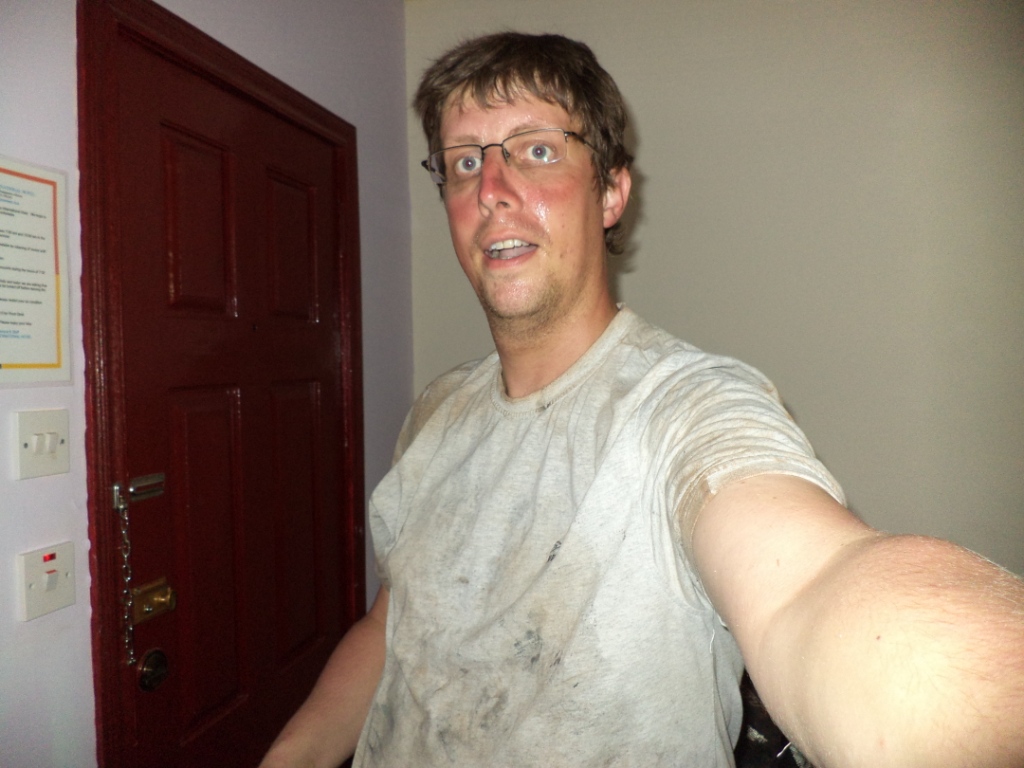 I then took my laundry to the laundrette and discovered a that my rear tyre was again flat. Patch failure or 3rd new puncture of the day? I pumped it up to get my the 1/2mile back to the hotel and then left the mystery for tomorrow. I'd had enough. I was tired, in pain, soaked through with sweat and sunburnt on my face as I hadn't yet managed to replace the sun block.
Because of this delay I am running too close for comfort to the Easter weekend in a continent of Jesus declarers and I am worried about making the Macapa to Belem ferry but if everything goes to plan I should catch it.
LOL. 'Going to plan'. That actually made me just laught out loud in the middle of the hotel's reception! Anyway we shall see and I am at least looking forward to enjoying my clean and comfortable bedsheets for the next day and a half.
TTFN,
Tiggermon