No shit, I am in the rain forest and we have a man down. MAN DOWN!!!
Ahoyhoy and oh my god this is amazing even despite the team being a valued man down!
I am at the Atta rainforest camp in the Iwokrama forest next to the Iwokrama canopy walkway. Genuinely real rainforest and its all mine as I am the only guest. The world is tourism stupid because this place is fantastic and a must for travel cautious Brits. I will go on but so you can book your next holiday in Guyana (formerly British guyana) the link you need is www.iwokramacanopywalkway.com and info@iwokramacanopywalkway.com
I started my day in the luxury of my new friens Guillermo's house and was soon on my way to the border with Guyana. Everything at the Guyana border town of Lethem had a Caribean feel. Well dressed dark men with an old fashioned British formality and exactness that we now lack. Everyone speaks English and the drive on the LEFT!! I needed insurance, photocopying and money changed so I headed into town and when all was down I took the road for Georgetown. To start with Guyana was savana like and the road was compacted sand and no bother to ride at 60mph on: I am sorry for the low picture quality but the internet is rather slow in the middle of the rainforest!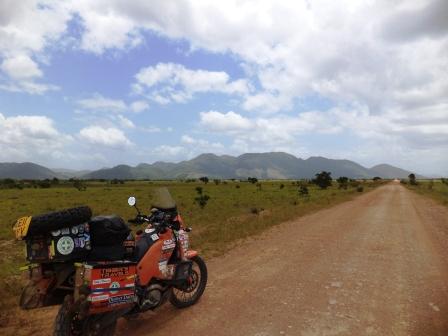 The bridges were fun: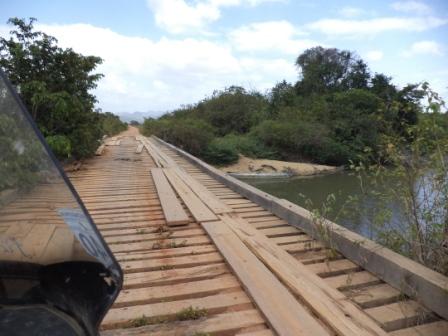 But soon enough we were in the middle of the real dense and excitingly slightly scary jungle: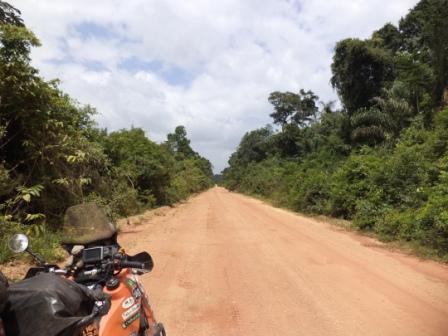 I before too long enetered the Iwokrama reserve checkpoint and after having all my documents checked I rode on to the Atta rainforest lodge. I rode down 1 mile of dark, close, huge puddled track 1/2 a wheel deep but emerged into a clearing with several brick huts which was the lodge. I was welcomed by Cassius and Leon and booked my trip and stay (choosing to camp out of necessity to finance). Alas I now discovered a terrible happening. Little Tigger was gone. I have no idea where he fell but alas he is no longer with me after 50,000miles together. I am heart broken. Back to the lodge: the view from the open air shower at the lodge was enough to make me want to share it with you; where else can you wash your nethers to a view like that?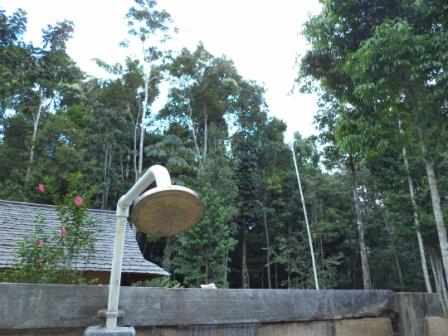 After setting up the tent and showering I set off with Leon and Cassius at 4pm into to the jungle. The cacophony of different insect and bird noises was incredible including the screaming Piah! I soon spotted a beetle and a colony of leaf cutter ants: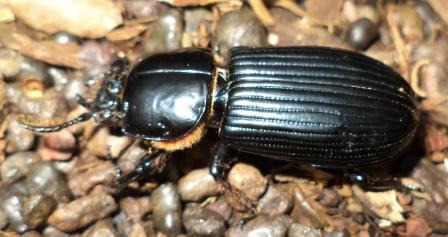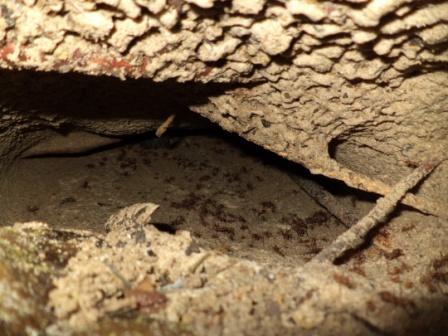 And then the most amazing phosphorescent shade of vivid blue butterfly the size of a side plate fluttered past. Alas I only managed to get a photo of it resting with its wings closed. It was a Morphyl Flutterby.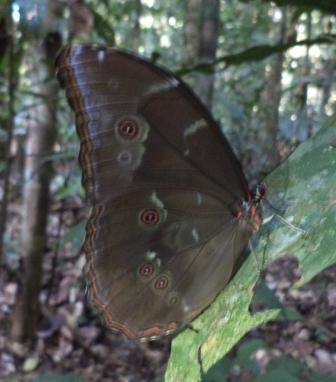 We then went up into the treetop canopy walkway: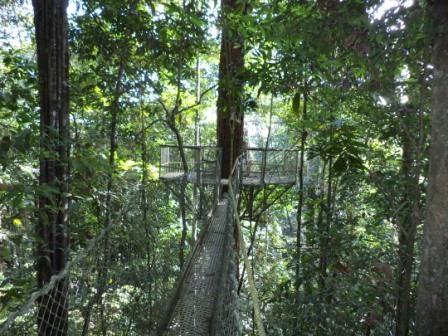 I got bitten on the hand by something but I don't think it was a Bullit ant that will send you into a day or two's nasty fever with one bite. This one was happy to pose for a photo: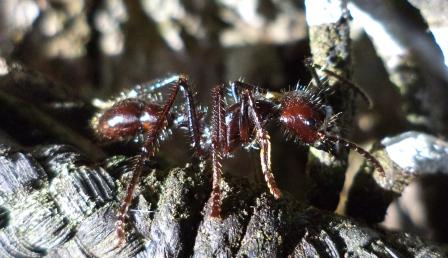 But what a view: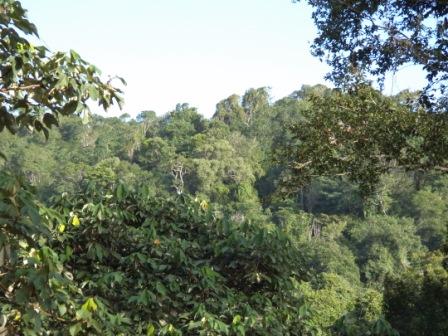 Alas this was the best photo I could get of the croaking Guyana Toucan. Amazingly beautiful and brightly coloured birds with whopping great noses: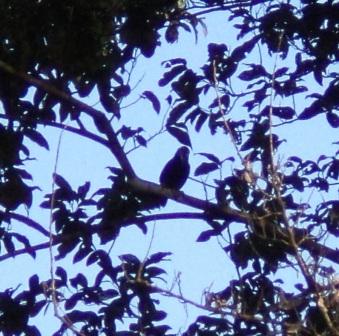 Then I spied a fat sweaty bastard in front of the huge seed pods of the Wallaba tree: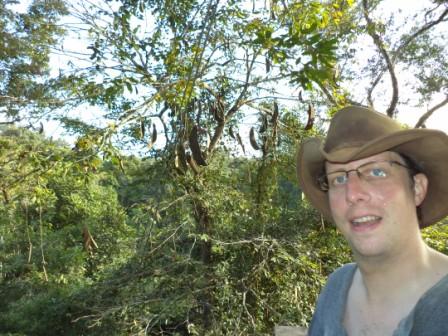 On walking back I randomly took a photo of a big tree and later found that I had inadvertently photographed a bat of which there are 80 species around here: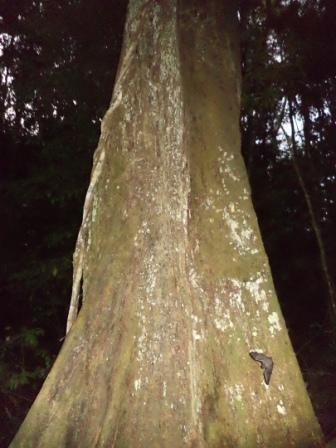 On returning to the lodge at near gone dusk there was still a few surprises. A lovely dinner which I hadn't expected, a Gecko and a bird of paradise flower I had miss before: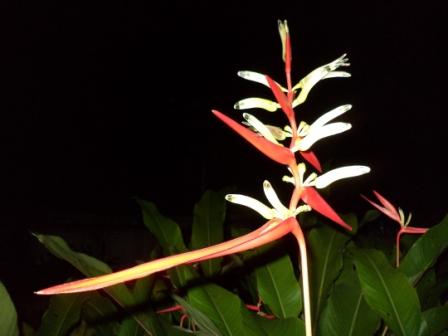 So all in all quite a good day. I am alas keeping to the recent habit of only doing 200 odd miles a day but this is mostly pain and geography related. It will probably continue as I will get to GeorgeTown tomorrow, Paramaribo the day after, Cayenne the day after that and hopefully Macapa the day after that to catch the Monday ferry but time will see about that and I have never been right yet predicting my location more than one day hence and often even bad at that.
TTFN,
Jungle Tigger minus his Little Tigger