Having seen the Volkswagen Transparent Factory, we found the perfect camping spot in a beautiful park nearby (€3 for 24 hours). The tram station was close but we walked into town and immediately were impressed by all the beautiful old buildings. Dating back to the 18th century when this was the capital of the Saxon Empire, the style of statues and monuments was quite different than those we had seen in London.
The architecture of Dresden was so amazing, it's easy to imagine why they called the city "The Florence of the North". Monika has been to Florence and she says that the ornate style is similar, so that's something to look forward to if our route takes us through that part of Italy.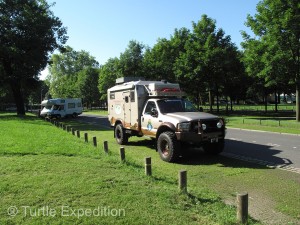 We found the perfect camping spot in a beautiful park nearby (€3 for 24 hours).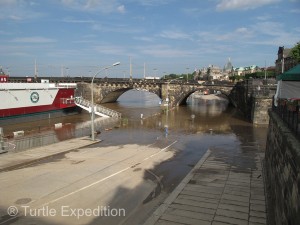 When we arrived in Dresden it was just recovering from the worst flood since 2002. The river was still receding.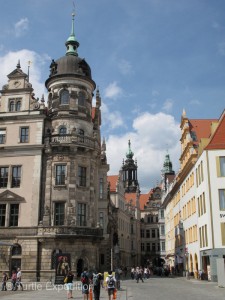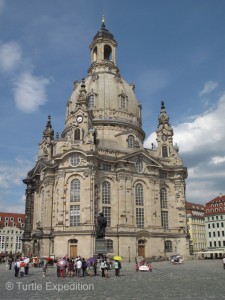 The Lutheran Frauenkirche (1738) was destroyed in WW II and painstakingly restored only after the reunification of Germany.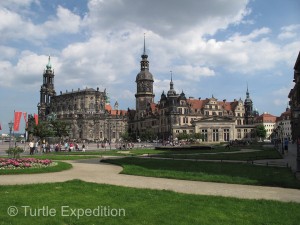 The Residenzschloss (Palace) on your right and the Hofkirche (Cathedral) on your left are connected with a second story bridge so the royals were able to enter the church without being seen by their subjects.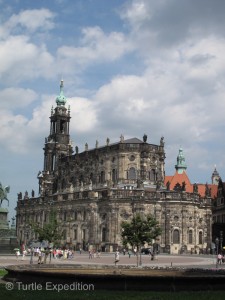 The Catholic Hofkirche's (1755) crypt contains the heart of Augustus the Strong. Heavily damaged in WW II it has been painstakingly rebuilt.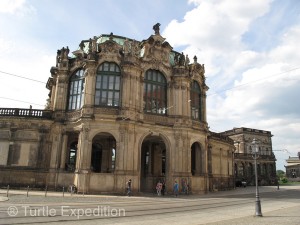 This section of the Zwinger (outside view) contains a world renowned porcelain collection started by Augustus the Strong soon after the nearby famous Meissen porcelain factory was founded.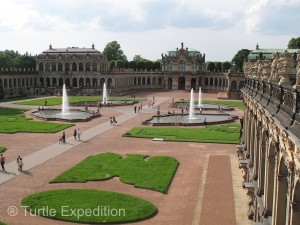 The interior court of the Zwinger with its Nymphenbad fountain is very popular among tourists.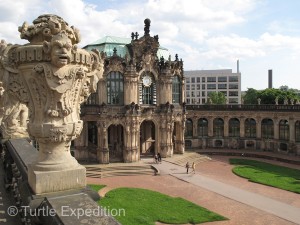 This section of the Zwinger (court view) houses the world famous porcelain collection. The clock rings on the hour with bells made of what else….porcelain.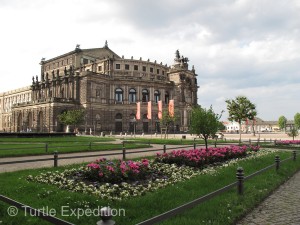 On the Theaterplatz is Dresden's glorious opera house, the neo-Renaissance Semperoper. Among others, premiers by Richard Wagner, Carl Maria von Weber and Richard Strauss happened here.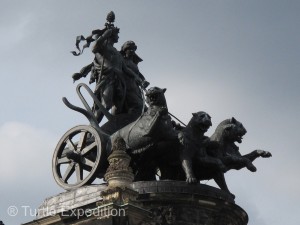 This neo-classic statue resides high above the Semperoper's entry halls.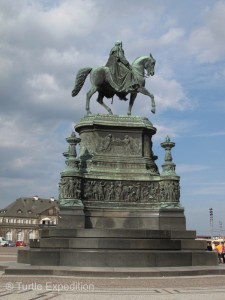 The King Johann statue on the Theaterplatz was created by Johannes Schilling.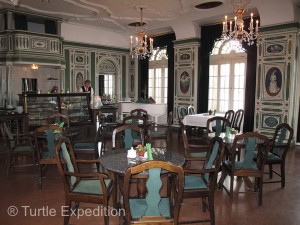 Many of the restaurants and cafés in Dresden have been beautifully restored to their original elegance. This one in the Italian Village is overlooking the river Elbe on one side and the Theaterplatz on the other.