I'm selling my bellowed off road camper truck. It's a 1990 TAM 150 T11 6x6, made in Maribor for the Slovenian army. The truck has only 17.000 original km and it was well maintained for its whole life. The truck was in occasional regular use by the Slovenian army up until 2019 and was regularly maintained. This truck served as mobile command headquarters (Mobile Kommandozentrale) for military officers and therefore was used rarely and handled with care.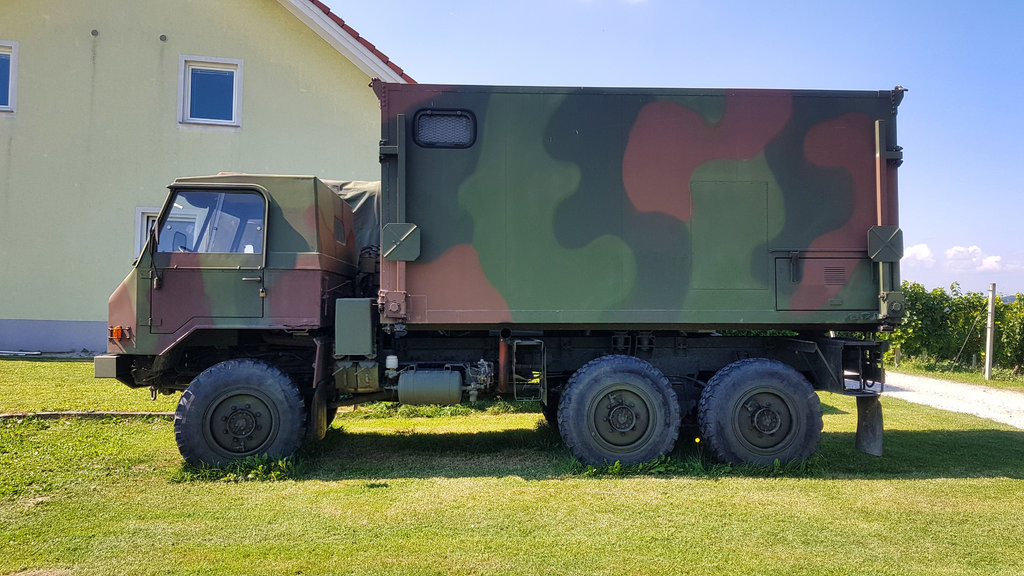 More high resolution images are available on my Google Drive folder:
It has a super rare removable military container which is already prepared for living / camping out of the factory. Living military container has the following features:
- Dimensions: 430 x 220 x 195 cm (length / width / height)
- Pre-wired electricity with fuse box and bidirectional transformer 220V - 24V
- 220V power outlets on the inside and one on the outside
- Lights on the ceiling
- Box for two 24V truck batteries that provide electricity supply for the living container + plus a plug for connecting to the electricity source in the camp
- Webasto heating for the living container with its own diesel tank
- 4 extendable legs in each corner of the container - you can open and extend these legs to raise the living container from the truck
the container is attached to the chassis with 4 quick release nuts
The truck is a proper 6x6 off road machine, mechanically over-engineered and built to last forever.
- It has Deutz air cooled V6 engine - engine code F6L413F (I believe the same engine basis was also used in earlier versions of MAN KAT) the engine has 150 HP because it's detuned for military purposes. The same engine was used in TAM civil trucks with 190 HP power output and it's indestructible. The engine power can be safely raised up to 210 - 230 HP on Bosch pump if wanted.
- The truck has a 6x6 drivetrain with switchable drive on the front axle. You will use the truck in 6x4 mode on paved roads and turn on the front axle drive when you go off roading. It has differential locks on all axles and drive cross lock.
- The gearbox is manual 5 speed with added gear reducer to switch between low and high gears.
- Another great feature is the self inflating / deflating tyre system for all 6 wheels (you can set tyre pressure from 0.5 bar to 3.5 from inside of the cab - depending on what surface you drive on).
- In case you will get stuck you have a heavy duty 15 ton winch which is engine driven from gear reducer via drive shaft. It has 80 m long steel cable. The winching speed is controlled with a gas pedal and a gearbox, depending which gear you are in. The factory claims that the winch is powerful enough to lift the whole truck up in the air.
- It has factory power steering and a synchronized gearbox.
- The truck can go through 1 meter deep water and can climb on 1 meter high vertical obstacle (I have never tried this, but these are the factory specs).
- The cab has its own Webasto heater and a "sunroof" latch at the top of the cab to release the heat on summer days.
The truck is in overall amazing original condition for its age. Mechanically well sorted, the engine runs like new. The chassis is rust free, the living container is rust free (made completely out of aluminum), the cab has some rust along the front fenders (as pictures). Considering the fact that the cab is made out of completely flat surfaces it shouldn't be that hard to fix. The tires have a lot of tread left, but considering the age I would suggest replacing them before any serious road trip. The truck is fitted with two brand new 143 ah VARTA heavy duty batteries.
Spare parts for these trucks are still available new because the same mechanical parts were used in standard versions of non-military TAM trucks which are still commonly used today in ex-jugoslavian countries. These trucks are also relatively cheap to maintain.
The truck is located 15 km out of Maribor in Slovenia. The truck has all necessary papers for export.
More high resolution images are available on my Google Drive folder:
For more info please reply to this forum thread or send me a personal message.
As I know there is a lot of scam happening online these days and I have 0 posts on this forum. You are welcome to add me on Facebook:
Войдите на Facebook
we can go on a video call over Facebook and I can show you the truck. You are also welcome to visit Slovenia, Maribor and see the truck for yourself and test it out. I will never ask for any money in advanced.
The asking price for the truck is 21.500 EUR.
Best regards,
Aljaž